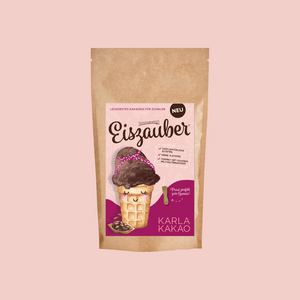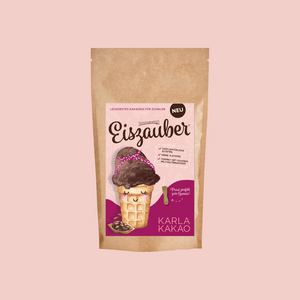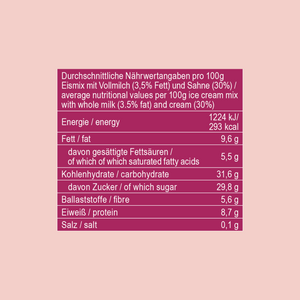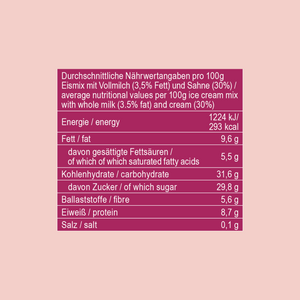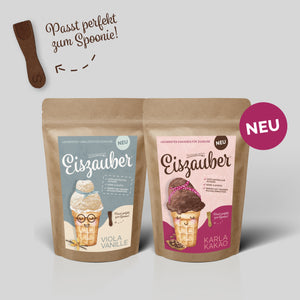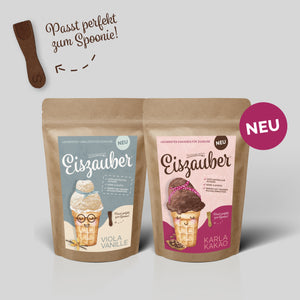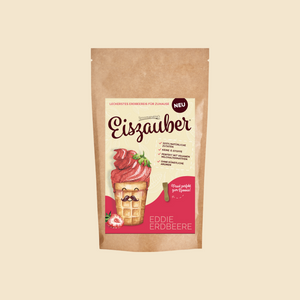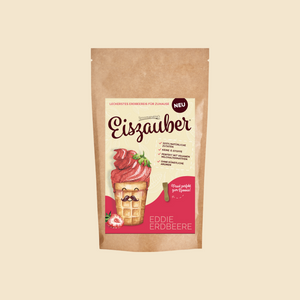 On Sale
Karla Cocoa - DIY ice cream
Ice cream magic Karla cocoa - make your own chocolate ice cream at home!
**Karla has gone on winter vacation and is therefore currently not available. Until Karla is back, try our other ice spells Viola, Eddie and Willi.**
Discover our new ice cream magic Karla Kakao now! Because with our ice cream magic, you can easily make your own ice cream at home. 
Allow us to introduce: Karla Kakao.
Karla Kakao is the most delicious of the ice creams. Super chocolaty in taste, with a light sweetness that melts in your mouth and is quick to prepare. It's perfect in any situation, especially on the couch while relaxing or as a dessert. Discover Spoontainable's ice cream magic now and make your cocoa ice cream easily at home with Karla. 
Too cold for ice cream? No problem, because our Karla also works perfectly as a drinking chocolate 😍. Simply prepare it with milk or a milk alternative and enjoy it as hot chocolate. Whether hot or cold - as drinking chocolate or as cool ice cream, Karla cocoa is convincing:
100% natural ingredients

E-substances free

works with milk alternatives
Make your own ice cream at home with Karla Kakao
Our Karla Cocoa ice cream magic helps you prepare your summer moment (even in winter ⛄) and gives your ice cream that fine magic. All you need are the following ingredients: 
230 ml (vegan) milk

520 ml (vegan) cream

a stirring rod or ice cream maker

Spoonies for spooning
First mix the (vegan) cream a little (do not whip until stiff) and then mix Spoontainable's ice cream magic with the (vegan) milk and cream. Next, mix the ingredients well with a whisk and freeze the ice cream mixture for 5-6 hours. Keep stirring the ice cream in between to achieve a creamy result. Alternatively, you can use an ice cream maker and mix the ingredients according to the instructions. 
After freezing, let your ice cream thaw briefly, add a topping of berries or chocolate sauce and then enjoy it with a Spoonie. What's your favourite Spoonie crunch with Karla Kakao? Share your result with us on Instagram @spoontainable and #dontwasteittasteit. 
Discover more variations or recipe ideas on our blog, Pinterest and Instagram or send us your own idea. We look forward to your ice cream magic ideas! 
What else you should know about Karla Kakao
One Eiszauber Karla Kakao contains 150 grams and the following ingredients: Whole cane sugar, dextrose, cocoa powder, inulin, linseed flour. The packaging is made of sustainable kraft paper, is plastic-free and can be stored in a dry place. 
Do you already know Karla's best friends Viola Vanille and Willi Winter? Do you love our Spoonie choc and the ice cream magic? Then our Karla or Viola box is just the thing for you!
Do you have any questions? Then contact us directly: sales@spoontainable.de. We look forward to hearing from you!